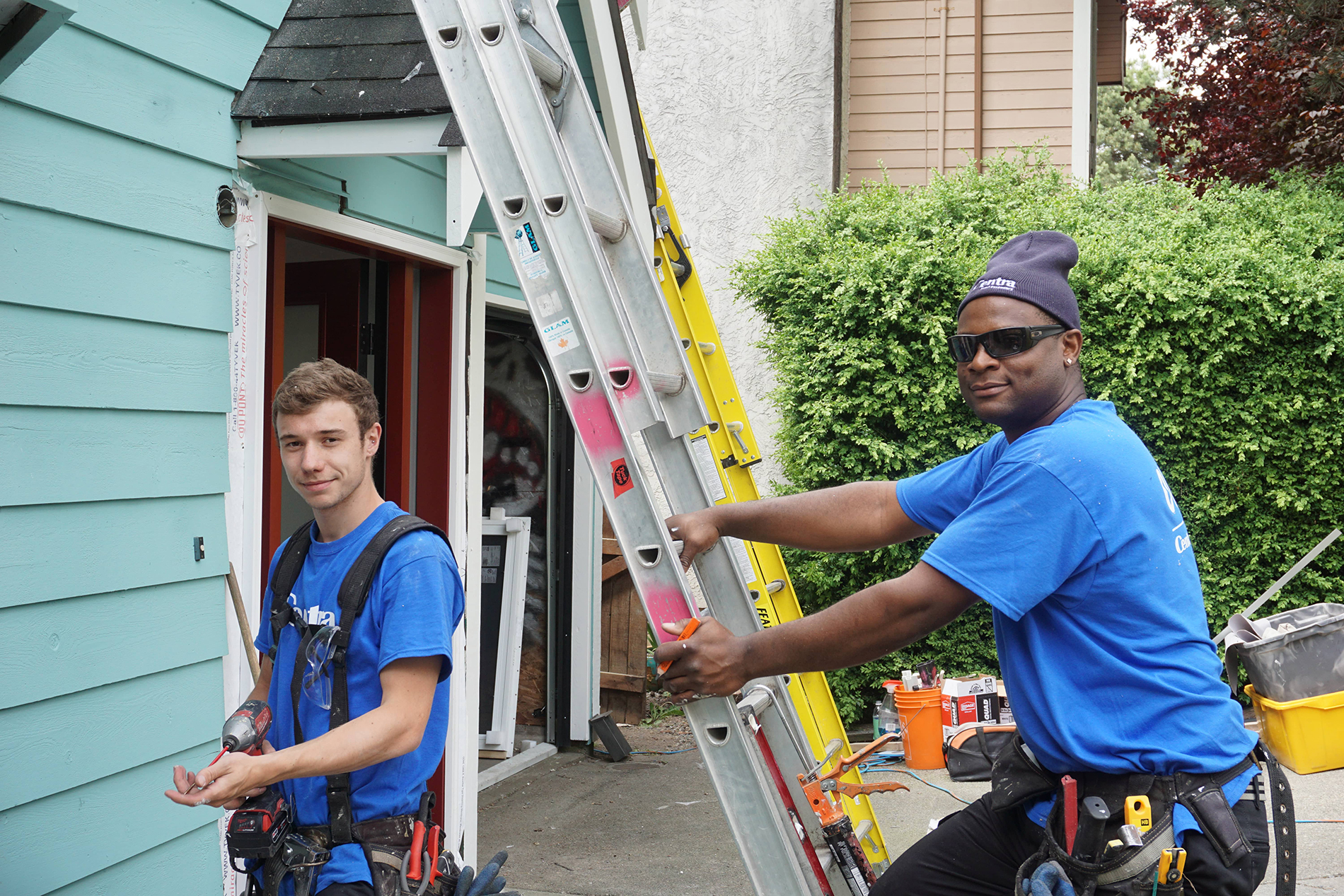 A high-performing window provides tremendous value to your home, significantly improves curb appeal, increases the amount of natural light, provides enhanced views, and increases energy efficiency.
For this reason, a high-quality window is an important investment. The cost of new windows will depend on the type of installation, the style, additional features, and of course, the number of windows.
Centra Windows can range anywhere from $800 - $1000 per window, which includes installation. If you're looking at installing 20 windows, the rough estimate will be between $16K - $20K. Every home is different, depending on the number of windows, installation method, type and style of window. Standard payment terms are a 50% deposit required at the signing of a contract and the remaining 50% upon completion.  
Upgrading your home based on the lowest price is not recommended. In many cases, the lowest price in window replacement could give you the highest cost down the road, in terms of operation, maintenance and service. When selecting your home improvement company, choose a company that takes the time to explain the entire process, not just the price.
Window expert Mark Brandow has been with Centra for 30+ years. He says that people who upgrade to energy-efficient windows can see up to a 20% to 30% reduction in heating costs, plus a decline in the cost of cooling during the summer. Remember that cheapest isn't always best, buy as high a performance window as you can.
Price of Windows by Quantity Purchased:
10+ Windows: $1300-$1500 per window
6-10 Windows: 8-10% increase
1-5 Windows: 15-20% increase
The cost-efficient method is to complete your window replacement at one time. It is more economical to upgrade more windows, as the discount prices are often larger. The more you upgrade, the more you save. In most cases, the cost per window is a lot more expensive when completing in stages because of labour and travel costs.  From major cost savings to acquiring the best discount, you will experience the maximum change in performance, savings and overall comfort by upgrading all your windows at once.
Type of Installation:
Full Frame Removal: This type of installation involves removing the entire frame and replacing the entire window. This provides installers with the opportunity to identify decay and any other issues. 
Retrofit Installation: This type of installation involves putting your new windows into your existing frame. The cost of a retrofit installation is cheaper than a full-frame removal but has key differences that your Sales Estimator can explain in detail. In most cases, a full-frame removal is recommended.
Type and Style of Window:
Difficulty of manufacturing and the amount of craftsmanship that go into various windows differ greatly. A simple picture window (window with not operating parts), is much quicker to produce than a more complicated casement or awning window. This is also translated into the amount of material that is used to make the product and the amount of time that it would take an installer to install the more complicated window.  However, your comfort is our primary goal and Centra estimators are with you throughout the entire process to make sure the solution fits your lifestyle.   
Warranty:
Centra Windows is the first to offer a lifetime warranty on the installation of your windows. If you sell your home, our warranty is transferable for the first 20 years, emphasizing our commitment to both product and service. All of our employees that are working on your home are covered by workers' compensation. This is important as you will not be liable for any work-related injuries.
We also carry a $2 million dollar liability insurance policy. Centra also offers financing plans that can be applied over a number of years. Ask your estimator about which financing options are best suited for you. Centra offers the most value along with a quality product. We may not be the lowest price, but we will always be your best deal.
Conclusion:
The initial cost may seem like a lot but you are saving more money upfront compared to the costs over 6-8 months. The cost per window will not only increase the longer you wait to upgrade your windows, but your total bill has the potential to be 10-15% higher if you completed the upgrade over a year ago.
What if I can't afford to upgrade all my windows at once?
Don't worry, we have you covered.  With financing options available through our financing partner, FinanceIt, you can complete your window home renovation project without dipping into your savings. Right now you can take advantage of our 3-months no payment, no interest on all supply and install orders with us.
We are your certified Window Geeks
Centra Windows is not only the manufacturer but also the installer of its product, which enables us to offer a full warranty, eliminating any confusion between product performance and installation. We view the house as a system and understand how each of the elements must work correctly to maximize the comfort and energy efficiency of your home. Contact our local Employee Owners at 1-888-534-3333 or send us an email at info@centra.ca for more information about this topic and many more. You can also sign up for our biweekly newsletter, providing all the tips and tricks about the window industry.